Term of the Day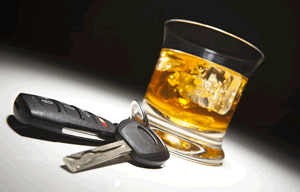 Sobriety Checkpoints are locations along a roadway where police officers will request vehicles to momentarily to stop in order to check each driver for signs of intoxication or impairment.
---
Open Container Laws
Definition - What does Open Container Laws mean?
Open container laws are put into place by authorities to either regulate or prohibit open containers of alcohol in certain areas, as well as regulating or prohibiting active consumption of alcohol in the same areas. These laws might be enforced in public places, like sidewalks, parks, or vehicles. The main purpose of having open container laws is with the hope of reducing public intoxication or drunk driving. These laws also intend to improve and maintain the community's quality of life, and protect residents and business owners from potential rowdy, unruly, or destructive people under the influence of alcohol.
Open Containers in Public
Open container laws are not enforced federally, but rather by the states, so each state can decide for themselves whether they choose to enforce these laws or not. Though the motives behind these laws are with good intention, it is often not strictly enforced by authorities. Sometimes a "public place" could be open for interpretation in some areas and situations, like a tailgate party during a big sporting event. In other cases, a state's open container law would only apply to the city or county within the state that agrees to enact and enforce such ordinances.
Open Containers in Vehicles
Though open container laws are more flexible and open to interpretation in public places, they are much stricter when it comes to having open containers of alcohol in a vehicle. If a state chooses to have open container laws, it needs to also abide by the rules set by the federal Department of Transportation. A few of these rules include:
No open containers of alcohol or consuming alcohol allowed inside a vehicle
Authorities must check all areas of the vehicle where alcohol can be easily accessed by people inside the vehicle, including glove compartments
Any beverage that includes .5% or more of alcohol is prohibited
Laws apply to all passengers, except passengers of public transportation or living quarters of motor homes
Laws apply to all vehicles on a highway or on the shoulder of a highway
Places where it's Legal
There are some areas in the United States that are actually famous for allowing people to openly drink alcohol in public places. These places include:
Butte, Montana
Power & Light District in Kansas City, MO
Las Vegas Strip, Clark County, NV
Beale Street, Memphis, TN
New Orleans, LA
Savannah Historic District, Savannah, GA
Fredericksburg, TX
Hood River, OR
Erie, PA
East Aurora, NY
Related Pages
Category: DUI and DWI
---
---